Details
10:30am to 2:30pm
Food & Beverage
Easter Brunch for Sunday, April 21, 2019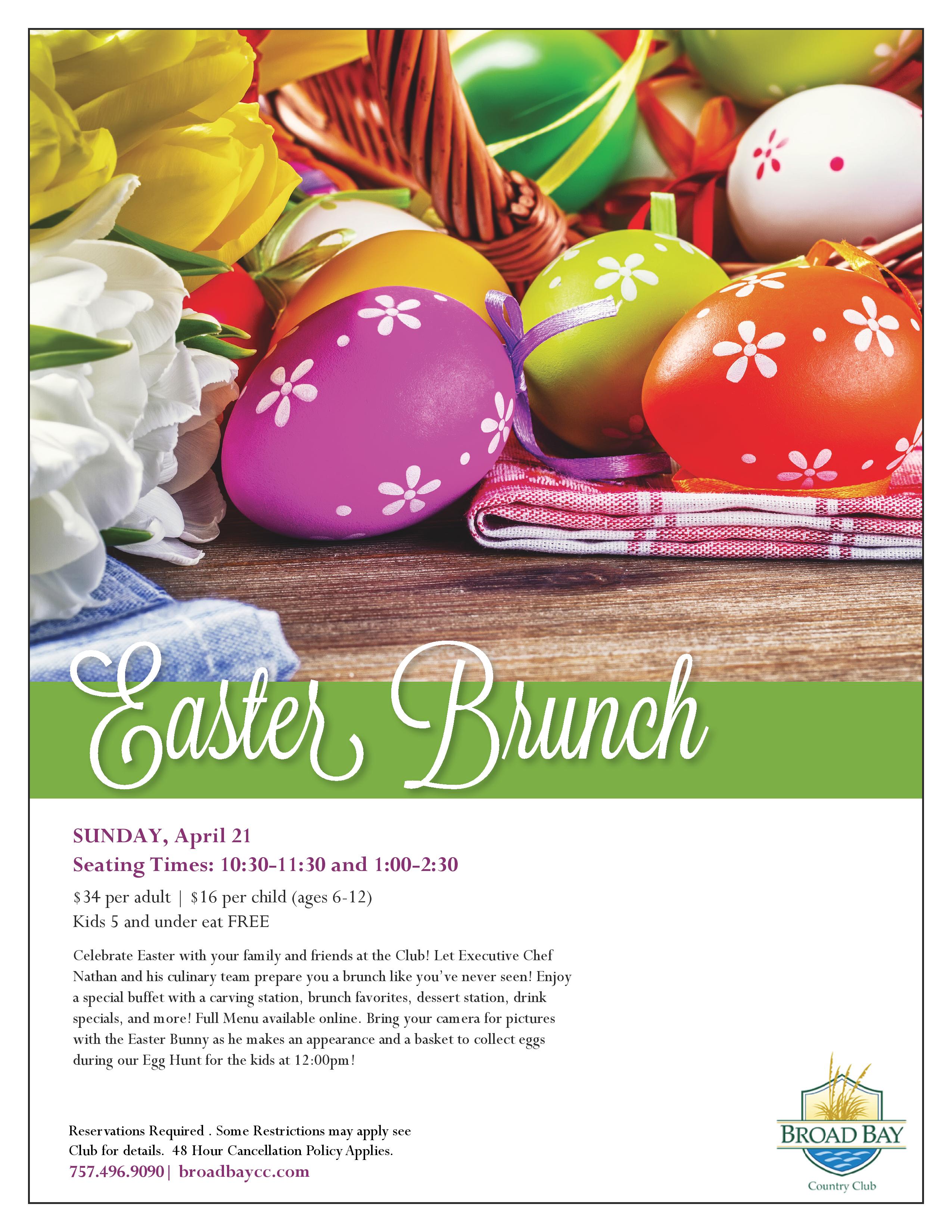 Make reservations today for your family to enjoy the 2019 Easter Brunch Buffet at Broad Bay.
Broad Bay will be hosting a lovely buffet for Easter, along with an Easter Egg Hunt and a visit from the Easter Bunny. Reservations are now open for seatings from 10:30am to 12pm during seating number 1 and 1pm to 2:30pm during seating number 2. The Easter Egg Hunt is scheduled for 12pm to accommodate both seatings.
The cost of this event is only $34 per adult and $16 for children ages 6 to 12, kids ages 5 and under eat free.
Make your reservations now by calling (757) 496-9090 or emailing bcornell@broadbaycc.com.
Easter Brunch Menu
Assorted Danish Pastries
Cinnamon Buns
Mixed Fresh Fruits
French Toast & Maple Syrup
Crustless Egg Bake
Scrambled Eggs
Sausage Links
Bacon
Hash Browns
Garlic Studded Lamb
Spiral Baked Ham with Orange & Honey Marmalade Glaze
Potato Crusted Salmon with a Lemon Herb Cream Sauce
Whipped Potatoes
Buttered Green Beans
Kids Buffet
Hotdogs
Chicken Tenders
Chips
Fresh Fruit
Desserts
Assorted Fresh Baked Cookies
Cream Bralee Cheesecake with strawberry Topping